Even though you may know me, I'm not sure you do.
I'm Mike Paul from North Carolina, and some
think I know tech, but they don't know the real story.
When I started in Real Estate, I was occasionally asked to help other agents with their computer issues…and man, did they
have issues!.
At first I was flattered they would ask, but over time it became a pain. One sweet old Lady, Mrs. Bright, who was anything but that when it came to PCS, had a problem almost everyday!
BUT, remember I was dealing with a bunch of very middle-aged folks who hated computers and didn't want to learn, either!
Then That All Changed
Once I left The business and started part-time in our internet marketing world, I realized how little I knew…
I went from a 'semi-wiz' to a 'dunce' overnight.
Soon I realized I was as tech illiterate as they come. I was always being overwhelmed by these new plugins, software, and video gimmicks.
What concerned me was my 'tech' fear was keeping me from using some of the best tools we had access to.
The one I really was excited by was…
Facebook Message Bots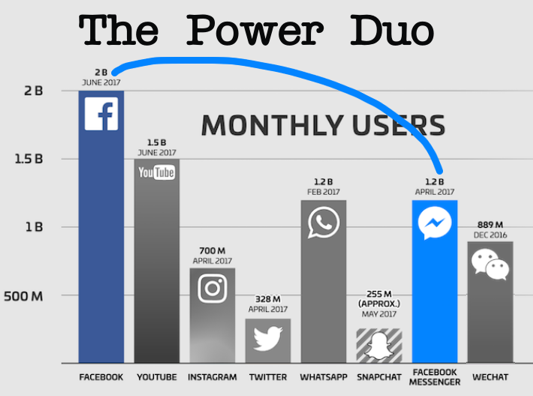 …and I'll tell you why. One of my consultant buddies was getting '80-90% Opens' and his interaction with prospects was through the roof… He was making serious money!
I wanted that bad.
But when I first looked at setting it up, I thought its too complicated, would take too long, would never work for me (see how negative I can be)?
But my desire was stronger than my fear. I shouldered on and figured it out…It wasn't as bad as I feared anyway.
Then I decided to show other consultants the SIMPLE way to do this… and even get them help if they wanted to have it done for them!
I'll tell you more about that in a moment, but first, you ought to be asking,
"Mike, Are Message Bots REALLY That Great?"
Facebook messenger messages look like text messages, don't they?
And most of our smartphones have a niftly little "FB Messenger App" installed – and when these messages come in… they show up as a notification…
…Just like a text message.
I Don't have to sell you on the fact that we anxiously open our FB messages. I know it – You know it. But why is this?
In short – messages and other forms of confirmation have an effect on our psyche.
When our "Friends" confirm that we are "important" on social media.. a chemical is released in our brains called dopamine.
It's like a "reward" chemical that much of the general population is ADDICTED to!  We crave it.
And it shows in our daily habits of actually Seeking out these "likes", "tags", and.. yes… FB messages.
How ChatBots/Message Bots Increase Your Business
The chatbot idea has been dabbled in over recent years by businesses. Mainly, it's been used as a way to leverage and aid in customer service.
Have you ever visited a website with a chat feature? You go to the website and notice a "Live" Chat option somewhere on the corner of the screen.
In some cases when you type in a question, the answer coming back is NOT created by a live person.
Instead a "Robot" of sorts, is dishing out generic responses to a string of possible questions. These bots (short for robots) can detect how to answer your question based on "keywords" within your typed message.
Recently Facebook has implemented a similar technology within its ad platform.
But in a much EASIER way.
You can set up a string of pre-made questions and answers in a responsive fashion that can convert subscribers, leads, and grow your and your client's audience much faster than email alone.
For Example, Imagine This…
You create an image ad for a restaurant owner that says.. 25% Off Any Entree – This Weekend Only. Retrieve your Coupon Via Messenger!
The prospect clicks on your ad. And Up comes their messenger window in the bottom right portion of their computer screen!
The Bot says "Thank you! I just wanted to make sure you were interested in this weekend's coupon – is this correct?"
When the prospect responds, they are automatically entered into the restaurant owner's subscriber list!
Next, the bot automatically delivers a link to the coupon.
– The prospect did NOT have to open an email
– The prospect did NOT have to fill out a lead capture form
– The prospect did NOT have to go to a Landing Page
– The prospect did NOT have to wait for anything.
This is True, "No Resistance Marketing"
In addition, that prospect is now on a "subscriber" list that the business owner can send out future marketing material to!
*A Sporting Goods Store can send seasonal specials
*A Dentist can send "cleaning Special" reminders
*A Carpet cleaner can send specials
*A Restaurant Can Offer Lunch Coupons
*A Car Repair Store can give FREE Inspections
*A Furniture Store can give 2-for-1 Specials
*A Contractor can gently followup with Each Proposal
*A Mortgage Broker can provide latest rate quotes
*A Realtor can get top-of-the-mind awareness
*A Landscaper can offer Free Edging with a lawn job.
*A Lawyer can offer an Initial Consult – no charge.
Is this a 'Light Bulb' moment or what?
I don't care how slow your business is right now..
I don't care how unsure you are…
I don't care what your money problems are..
Even if you feel defeated, discouraged and down…
You need this training and I am determined to see you get it. You deserve it. Because this can truly be a game-changer for your business, your income, and your family…
The best part?…
It's NOT Technical At All!
Our step-by-step training is very easy to follow. Everyone that's seen it has agreed its just not a complicated process…
BUT, why not just choose an experienced person to do the message bot setup from our up-to-date list of vendors?
We include this handy list and important notes in your product download.
There are Many advantages but the 2 biggest are:
1. First, its a low barrier to entry for both you and your target prospects. Facebook Messenger is the third most-used app in the world, used by 68 percent of app users.
**A Nielsen survey found people think messaging is the second-best way to talk to a business.
Compare this to the rest of the mobile app market, where 71 percent of users delete an app within 90 days.
If you want to communicate with your customers, building a Facebook Messenger bot is a lot cheaper than building a mobile app.
2. The second advantage is the field is still wide open. While Facebook has 6 million advertisers, there are only 300,000 chatbots. That's a LOT LESS competition.
Meanwhile, good old marketing email click-through rates (3.1 percent, on average) haven't improved in years.
Chatbots can help you bypass inbox competition too.
What FB Chatbots Help You do?
1. Reach your audience directly
Headliner Labs found that people are 3.5 times more likely to open a Facebook Message than a marketing email. And since customers can respond, they're likely to move further into you or your client's marketing funnel.
2. Facebook Messenger Sponsored Ads, which can be sent to anyone who has previously been in touch with your Page. Yes, this means that you already have a subscriber list. You can use these ads in tandem with your chatbot to target prime prospects.
3. Saves time and money on customer care
Customers expect 24/7 availability, but they hate waiting on hold. They also ask many of the same questions over and over again. A little automation will go a long way. Free up your focus for the tasks that a Messenger chatbot can't do.
4. Identify leads
As your bot greets potential customers, it can identify their needs, ask basic questions, (i.e., "What's your budget?") and immediately direct high-quality leads to your human sales team.
5. Handle e-commerce transactions
With the right script, bots can do the selling, too. And because everything happens without leaving the comfort of Facebook Messenger, drop-off rates are lower than in a traditional ad-to-webpage pipeline.
6. Re-engage customers
Bots are capable of retaining information, and you can use those details to go the extra mile.
Rather than paying high Ad rates online for ADwords etc, a Facebook Messenger bot can reach out personally, offering targeted content at the right time.
For example, it can remind a customer about those books still sitting in her shopping cart, or that she sent her mother-in-law birthday flowers this time last year.
Its not hard to imagine Messenger bots showing up everywhere and soon. Getting in early and becoming fluent in discussing it will payoff quickly. Mike's new training…
GIVES YOU A HUGE HEAD START!
Introducing FB Bot Bonanza…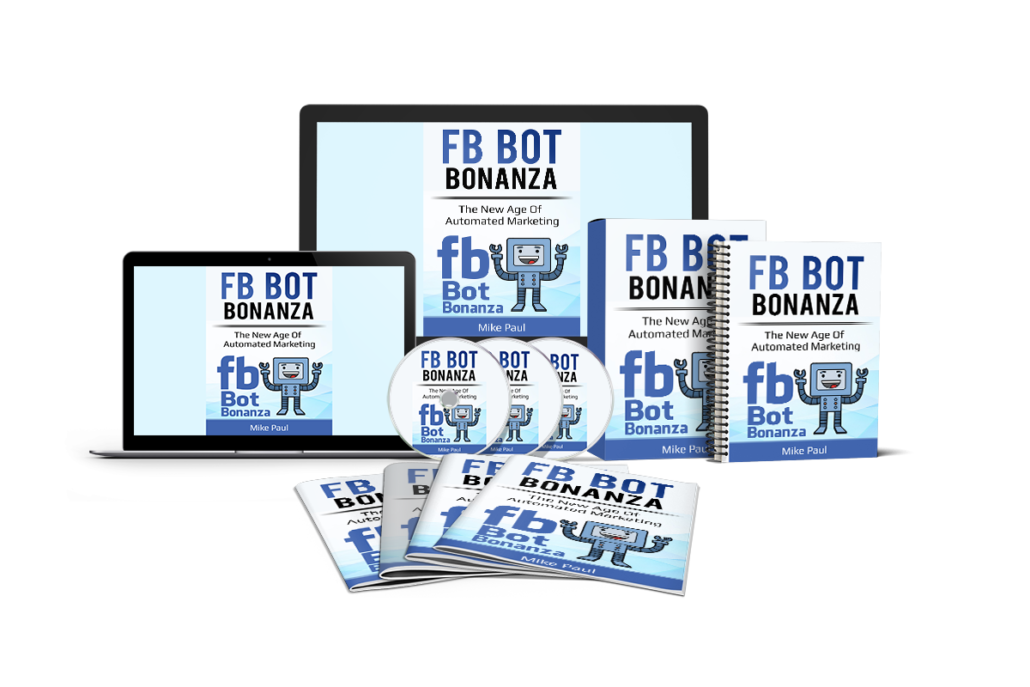 86 Page PDF Training Manual
Over-The-Shoulder… Hand Holding Videos that walk you through each step…
2 Killer Methods that bring in a river of results fast
A Sneaky "hybrid" technique to get clients for YOUR business…
How to get prospects to come after YOU!
And much more….
Here's just some of what awaits you:
The secret, single most powerful way a prospect is automatically subscribed to your message list.
Two things you NEVER have to create again (hint: One is a squeeze page or landing page website.)
You'll never have to wait for a response again.
You'll also never have to be there to (see inside).
"P. I." gives you a 6 Times better chance of converting the prospect!
There's no need for this annoying step either. (it's what blunts a lot of email campaigns)
Why internet leads are among the most UNLOYAL lead types in the industry!
A business owner or sales person who does not follow up with the internet lead in 5 minutes is Crushed by THIS.
A common mistake even seasoned marketers when they design and write their bot questions.
What 2 Factors must be right when you design the bot questions – blow this and your response will plummet
What to say using the A.A. Technique. It's the glue that holds the 'conversation' together.
A 'sneaky' way of approaching local businesses.
How To Get Your Phone Ringing Off The Hook Using Bots
Where To Advertise Without Spending Much At All-sometimes nothing
Why Movement Beats Meditation EVERY Time.
The #1 Way To Grab The Attention of Businesses.
Getting Referrals from other local businesses, even competitors!
A fool proof way to structure the Sequence of questions that keeps the prospect in the process.
Why you can still use email with prospects but how to do it differently now.
How to make every communication "stick" in your prospects psychology so they can't stop thinking about it.
Mike shows you how to dial in your Lead Quality to whatever level you like. This is an awesome way to not waste time with 'duds'.
FAQs
"Is this just a re-hash of previous courses?"

A:  No, This course is completely new and unique.

I built this program from my own experience searching for a way to use Message bots. Facebook was the best choice (Due to a huge user base) and I figured I'd show other consultants what I came up with.

It's a complete strategy including Step-by-Step setup instructions.. I made it very comprehensive yet easy to follow.

"Are Bots all they're cracked up to be?"

A:  Yes, they're probably even better than what you may have heard. Its no exaggreation to say they will probably change communication online for business, permanently. They keep getting better.

"What benefit does a business get?"

A:  Messenger bots are being called 'jet fuel' for businesses. We know they drive better results for consultants and clients, that's proven…but whats more exciting is how they leave email and older methods in the dust, like a crumpled old newspaper.

"Some Specifics Please?"

A:  **Reach their audience directly
**Facebook Messenger Sponsored Ads
**Saves time/money on customer care
**Identify good leads
**Handle e-commerce transactions
**Re-engage customers

"Can this be outsourced, I don't want to set it up?"

A:  Absolutely. In fact we're including a separate section in the training listing experienced vendors who will do the message bot setup for you. That way it can be completely hands off!

"Why would a business need my help?"

A: Most local businesses are now becoming aware of how popular bots are getting BUT they have little understanding of how to build and install a message bot. They are also almost never going to attempt this themselves.

"Aren't businesses afraid of new technology?"

A:  Sure, but they're NOT tired of getting ahead of their competitors. Many are actually anxious to be a 'first user' in their respective niche. Its another reason why they will and are seeking out consultants who know how to implement this.

"Does this take a lot of time?"

A:  Each client initially takes about an hour or two to setup the message bot architecture. Then maybe an hour per month to manage, if that. Based on subscribers and good leads gained, changes can be made in the bot questions and answers, too.

"Will I need a large budget?"

A:  No. You can do this with no money, just your own time and effort. A little money for an outsourcer will make it go faster, but its not necessary. We give you easy-to-follow instructions for setup. And remember with clients, you'll be paid before you ever have to spend any money. That way cash flow is not a problem.

"Does this work outside the U.S.?"

A:  This is PERFECT for out-of-area marketing. Since you do NOT need to meet any of your clients' so you can have clients all over the world. Its very portable.

"Won't my clients Be Taking A Chance On me?"

A: Nope. You'll know more than 99% do about Facebook Message Bots, as soon as you get through reading the PDF.

We show you exactly how to implement this system. Its proven to work and that knowledge will give you confidence.

"Will I need to hire Employees?"

A: NO (Unless YOU Want Them) ..If you choose to use virtual assistants or outsource that's fine. Regarding outsourcing the bot setup, see my comments above.

"Is there a lot of competition?"

A: In my experience, so far no. But its true as messages take over, there will be more attention to it. That's why it pays to get in early, while very few marketers are even promoting this.

"If It's so Good, Why Don't you charge more?"

A: Yes, I could..and I know I've said this before, but I am more interested in building my client base at this point. I do enjoy helping marketers and am told I'm a teacher at heart..

"Can I do this all from my computer?" (Or do I need to go door-to-door to sign up clients?)

A: This entire business is totally location independent and can be done entirely by email and phone. Most of my coaching clients use only email and their phone or skype.

"How soon can I expect to land some local clients?"

A: If you follow a simple daily plan, of setting up your fb message bot and following our guidelines, you can be adding clients in just weeks. Success rates will vary, of course, but theres no reason you can't succeed with this method..and remember we are here to support you.